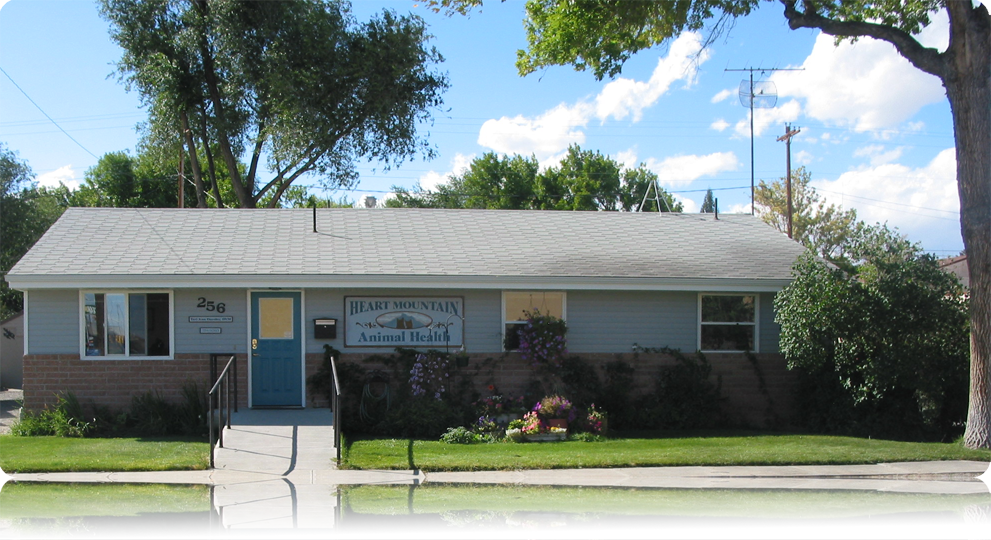 Heart Mountain Animal Health welcomes you to our website!


Heart Mountain Animal Health in Powell, WY is a full service companion animal hospital. It is our commitment to provide quality veterinary care throughout the life of your pet. Our services and facilities are designed to assist in routine preventive care for young, healthy pets; early detection and treatment of disease as your pet ages; and complete medical and surgical care as necessary during his or her lifetime.
We understand the special role your pet plays in your family and are dedicated to becoming your partner in your pet's health care. We treat your pet as we would our own. Our goal is to practice the highest quality medicine and surgery with compassion and an emphasis on client education. Our entire healthcare team is committed to providing personal attention to the unique concerns of each individual pet owner.

At this site, you will find information about our practice philosophy, our services, helpful forms to assist you and an extensive Pet Medical Library for you to search for additional pet health care information.




Thank you for taking the time to read about our veterinary practice and the services we offer. We welcome your comments and suggestions. Please contact us at (307)754-9393 for all your pet health care needs.
Hot Cars are not for Dogs - but they're OK for Defrosting Fish
Hey! You! Yes – you.You know that feeling when you get in a hot car after it's been sitting, baking in the sweltering sun all day? That cloying, sweaty, Corinth ...
Read more ...
Transitioning Feline Dry Food Addicts to Canned Food
(The information contained in this handout is an excerpt from Feeding Your Cat: Know the Basics of Feline Nutrition, which can be found at the author's website ...
Read more ...
Pet spay-neuter studies spotlight health risks, benefits
Photo by Jasmine Rose Penter Loki, a rescued mixed-breed dog living in Oregon, is shown at 6 months old, shortly after he was castrated and adopted. Pets comm ...
Read more ...
IMHA: Four Letters You Never Want to Meet
Most of the diseases that we see and treat in the ER can be pretty easily comprehended by non-medical folks: trauma, infection, cancer – all of these seem to m ...
Read more ...